Everyone has that one friend or family member that puts ranch dressing on everything from sandwiches and tacos to pizza and French fries.
As delicious (or disgusting) as that may sound, ranch dressing is hard to ignore. It's one of the most popular salad dressings around. You're sure to find it at just about any restaurant you visit.
Unfortunately, most restaurant or store-bought ranch dressing brands contain sugar, which means you should avoid them on any diet that is low in carbohydrates.
Making your own ranch dressing at home is easy and it means you'll always have a low-carb version on hand to put on anything you want.
In this article, you'll find everything you ever wanted to know about ranch dressing, including the best store-bought brands to buy and how to make your own at home.
What Is Ranch Dressing?
Ranch dressing is a salad dressing that has a buttermilk and mayonnaise base with egg yolk, herbs, and oil. It can be used on salads, as a marinade for meat, or to dip your favorite foods in.
Ranch dressing is one of the most beloved dressings in the United States. It's a staple in many households and some people use it on everything!
Here are some dishes that commonly call for ranch dressing:
Potato salad
Chicken salad
Pizza
Tacos
Chicken wings, tenders, fingers, and nuggets
Hot dogs or chili dogs
Burritos
Pasta dishes
Hamburgers or cheeseburgers
Meat or salmon based dishes
Vegetable dishes
Soups
Marinades
Coleslaw
Sandwiches, pita, and wraps
Mozzarella cheese sticks
Jalapeno poppers
Egg-based dishes
Quesadillas
Casseroles
French fries
Tortilla chips and nachos
Potato chips
There are a few different stories circulating the history of ranch dressing. But according to Wikipedia, the original recipe for ranch dressing was developed by a plumber named Steve Henson in 1954 while he was working in Alaska as a contractor.
Together with his wife Gayle, Henson opened Hidden Valley Ranch located in Santa Barbara County in California. Then, in October of 1972, Hidden Valley Ranch was purchased for $8 million by Clorox.
Today, Hidden Valley Ranch remains the most popular type of ranch dressing in America. In fact, the salad dressing is so popular that Hidden Valley recently launched a summer clothing line with a ranch theme for all ranch lovers!
You can find ranch dressing in just about any supermarket or convenience store. It's often the number one listed dressing in most restaurants and Americans seems to use it in huge quantities!
Ingredients and Nutrition
As you can see, ranch dressing is used in many dishes and is widely popular, but it's not always healthy. Some brands of ranch dressing are loaded with sugar and carbs that should be avoided on a low-carb or keto diet.
In fact, the first ingredient in Hidden Valley Ranch is vegetable oil, which is highly inflammatory and should be avoided on any diet plan. It also contains sugar, buttermilk, and lots of preservatives.
Here is the nutritional information of a two-tablespoon serving of Hidden Valley Ranch:
140 calories
14 grams of fat
2 grams of carbs
0 grams of fiber
1 gram of sugar
1 gram of protein
Ingredients are as follows: vegetable oil (soybean and/or canola oil), water, egg yolk, sugar, salt, cultured nonfat buttermilk, natural flavors (milk, soy), spices, dried garlic, dried onion, vinegar, phosphoric acid, xanthan gum, modified food starch, monosodium glutamate, artificial flavors, disodium phosphate, sorbic acid and calcium disodium EDTA as preservatives, disodium inosinate, and disodium guanylate.
Is Ranch Dressing Keto-Friendly?
Although a two-tablespoon serving of ranch dressing only contains 2 grams of carbs, most store-bought brands of ranch do not use keto-friendly ingredients. These include sugar, vegetable oil, buttermilk, and more preservatives than necessary.
Additionally, most people use more than 2 tablespoons when they eat ranch, which means that you'll be consuming more than 2 grams of carbs at mealtime.
The truth is that you can easily make your own ranch dressing at home using keto-friendly ingredients without added sugar or preservatives.
Homemade ranch tastes much better than store-bought dressing. Plus, you can control the ingredients and leave out the carbs. All you really need is three ingredients!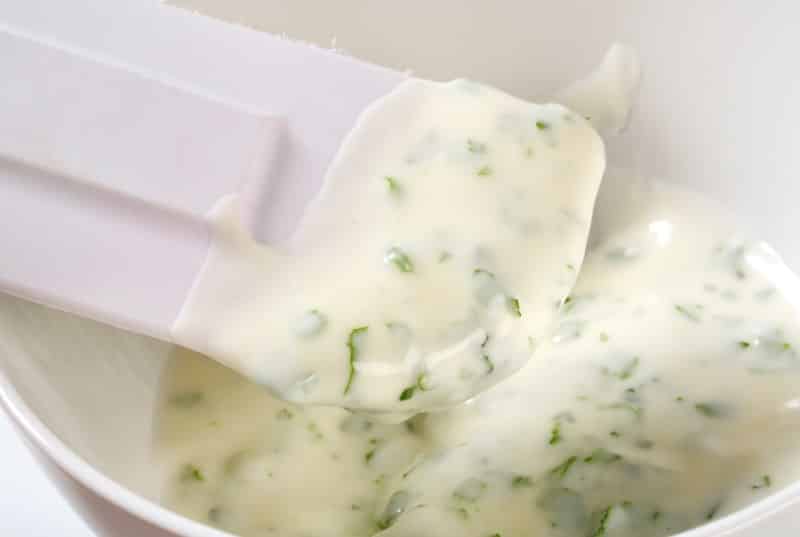 Homemade Keto Ranch Dressing Recipe
There are several ways to make ranch dressing at home. Once you get the base down, you can make your dressing as fancy as you'd like by adding your favorite herbs and spices.
In place of sugar and buttermilk, we recommend using fresh-squeezed lemon juice or vinegar. The lemon juice and vinegar will also act as natural preservatives so you can leave those hard-to-pronounce preservatives out.
Here's 3 main simple ingredients you'll need to make low-carb ranch dressing at home:
Light olive oil or avocado oil
Lemon juice
Egg yolks
The trick to making ranch dressing is to emulsify the ingredients. You can do this by combining the lemon juice and egg yolk in a blender or food processor and slowly adding the oil.
Then you'll want to whip, blend, or emulsify the ingredients together until it reaches a thick and creamy texture. If you don't have lemon juice on hand, then you can use vinegar instead. This is exactly like how you make mayonnaise.
Because you're using raw eggs, you'll want to make sure your eggs are pasteurized. Look for organic pasture-raised eggs that come from chickens that have not been treated with antibiotics because these contain the highest levels of omega 3 fatty acids.
After you've practiced making the base and mastering the emulsifying technique, you can add salt and the herbs of your choice.
Try using dried onion, mustard seed, garlic, parsley, chives, and pepper. The lemon and garlic make a great combination that pairs well with many dishes.
If you already have some mayo and sour cream at home, you can also try this different recipe:
For a creamier and thicker ranch dressing, try mixing homemade keto mayonnaise and sour cream as your base. From here, you can simply stir in the lemon juice, salt, and herbs of your choice.
Here are some herbs and spices you can try in your homemade ranch dressing to give it an authentic taste:
Dried onion
Dried garlic (fresh garlic works well, too)
Parsley
Mustard seed
Black pepper
Lemon juice
Vinegar
Chives
Dill weed
Parsley
Cloves
Basil
Oregano
Sea salt
Shallots
Cilantro